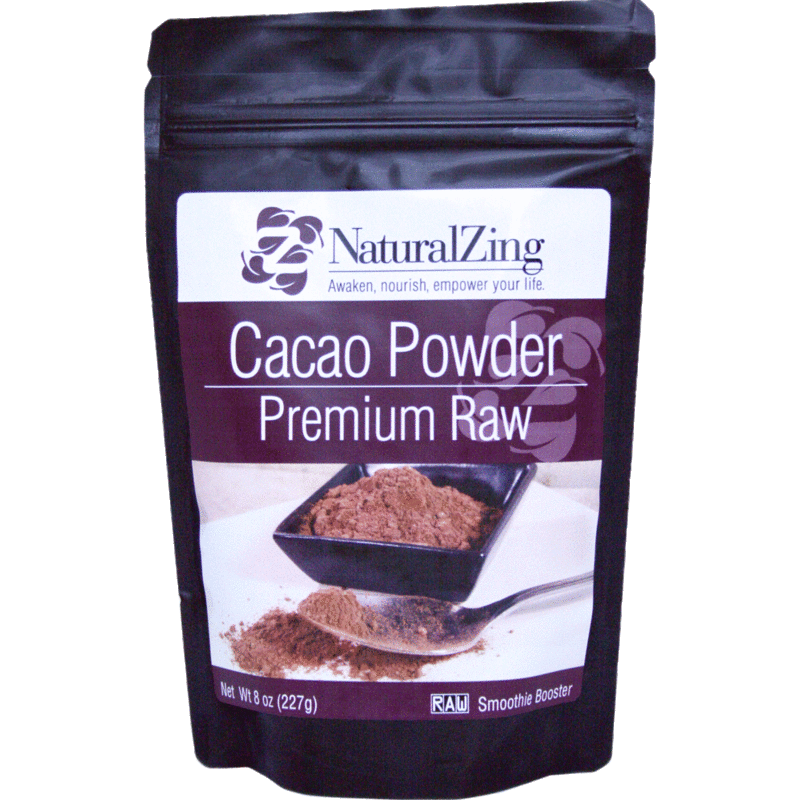 Cacao Powder 8 oz
Non-returnable
Cacao powder/Cocoa powder - raw, Premium and incredible.
We are proud to announce our truly raw organic cocoa powder. This cocoa powder is 22-24% cocoa butter by weight, a truly raw cocoa powder. This is a little grainier then traditional cocoa powder. Natural Zing™ cocoa powder is made by cold-pressing our highest quality organic raw cacao beans into a cake, making a dark brown paste called chocolate liquor. The temperature is never allowed to exceed 120 degrees Fahrenheit but usually only reaches 104 degrees. A high accuracy thermometer monitors this process. Other cocoa powders can be exposed to temperatures as high as 300 degrees Fahrenheit. Next, the fat is slowly separated into cacao butter and what remains is a cake. This cake or cocoa solid is then cold-milled to become a truly raw Premium unsweetened cocoa powder. We invite you to compare yourself to store brands and see the difference.
Once the fat has been removed, there are no extra ingredients added, such as sugar. It is one of the nicest forms of chocolate you will enjoy.
Since 2004 Natural Zing has been sourcing our raw cacao from the small farmers in Ecuador that currently supply the cacao for the Pacari Raw Chocolate. Look for Natural Zing's brand when shopping for the purest "Heirloom" Cacao Nacional Arriba Fino de Aroma cacao nibs, cocoa powder, cacao beans, cacao paste, and cocoa butter. Read full article "The best Ecuadorian "Heirloom" Raw Chocolate".